Agriturismo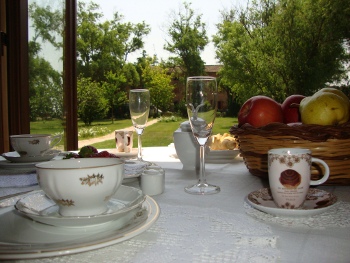 The Agriturismo L'Unicorno was built from a historic stall which originates in the late 1600's. The stall was located within a court farm of the noble family of Ferrara, the Este family. The original center of this court was the "Palazzone," or great palace, the Este family's antique house which is of great dimensions. Its function involved being a control point as well as serving as the granary. Among the different structures around the farmyard, the heart of the domestic life of yesterday, the stall calls for particular attention. It was once used for the grazing and resting of the horses, and it is today transformed for our guests into a welcoming dwelling place that is in perfect harmony with its surrounding environment.
This agro-touristic center is immersed in the Ferrara countryside where the values of simplicity and authenticity still exist. It is a place where a relationship with land and nature persist. Breakfast is served in a pleasant hall in which, thanks to a huge window, the guest can enjoy a beautiful panorama of the park and a spectacular view of the sunset. During the warm, mild seasons, it is possible to dine alfresco framed by suggestive green backdrop, while during the coldest of days there is an inviting living room which allows guests to pass pleasant evenings in front of the fireplace. For those who decide to remain overnight as guests at the Agriturismo L'Unicorno, we present a total immersion in nature, an environment rich of fragrances, silence, and lights.
Thanks to ample outdoor spaces furnished with garden furniture and a barbeque pit, you can enjoy the tranquility of rural life. The surroundings of farm are rich with paths that are not too demanding and are accessible by foot or by bike. They are also suitable for children. The land offers a perfect solution for who loves outdoor life, nature observation, meditation, and physical activity.